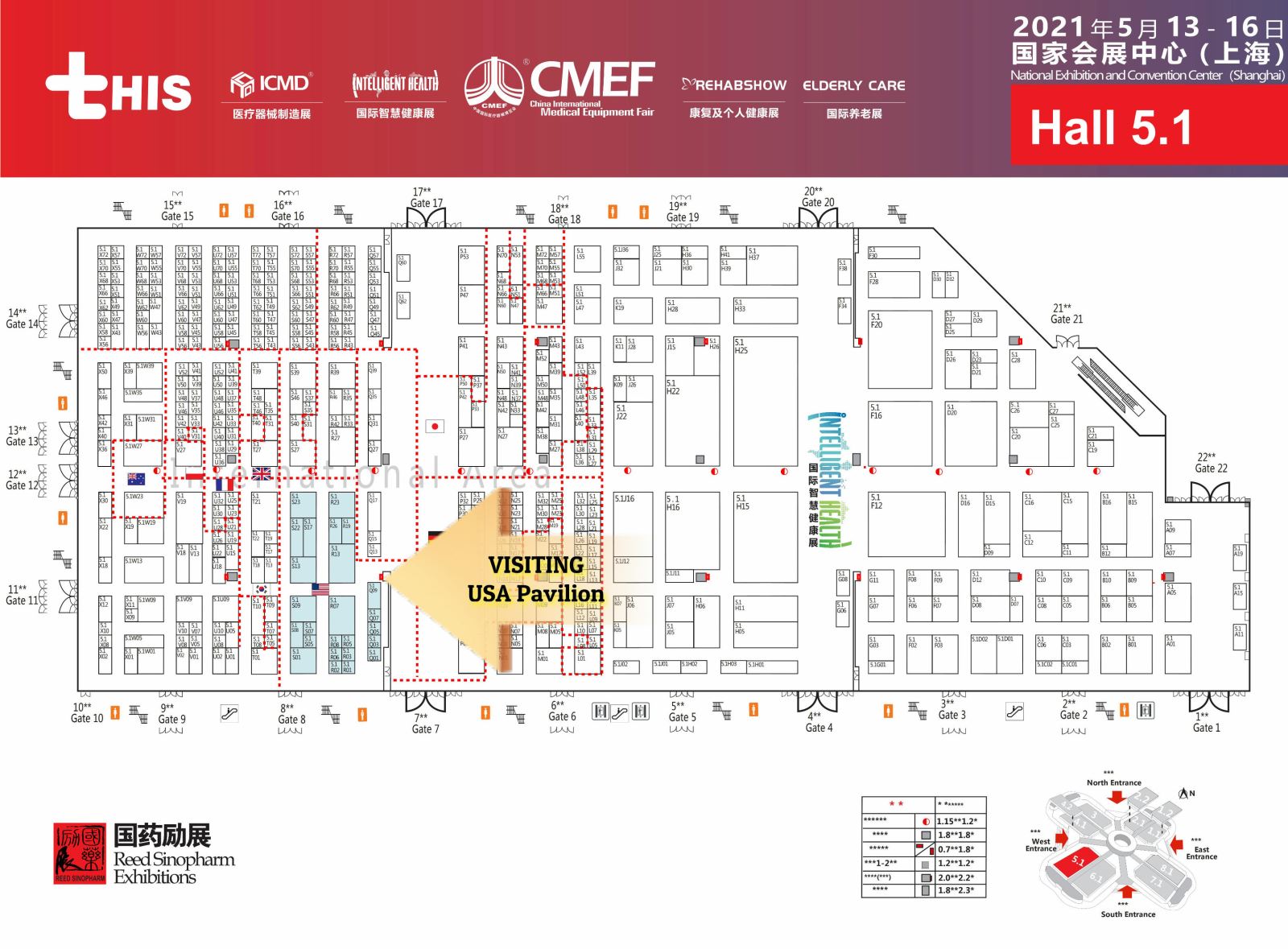 LOGO
Company Name(EN)
Booth No.
Company Introduction(EN) Max 100 Word
Aptar CSP Technologies
5.1 R02
Aptar CSP Technologies, part of AptarGroup, Inc., is the go-to material science and active packaging expert that transforms ideas into market opportunities, accelerates and de-risks the product development process, and provides complete solutions that improve consumers' and patients' lives. Our patented 3-Phase Activ-PolymerTM technology is applied in six key therapeutic areas including Transdermal, Diagnostics, Oral Solid Dose, Probiotics, Inhaled Drug Delivery and Medical Device. We offer a complete set of services to assist our customers from concept ideation, to design and engineering, to product development, global production, quality control and regulatory support that results in expedited speed-to-market.
Belmont Medical Technologies
5.1 R08
Belmont Medical Technologies, founded in 1980, has developed some of the most sophisticated and reliable devices in fluid management and cardiac assist. Today Belmont's medical devices are used in more than 100,000 procedures annually. We are proud to help save lives in most of the world's prestigious medical facilities as well as the combat field hospitals in Iraq and Afghanistan.
CAIRE Inc.
5.1 S17
CAIRE Inc., headquartered in Atlanta, GA, USA, has been a leading global manufacturer of oxygen supply equipment for more than 50 years. CAIRE's portfolio, marketed under the AirSep, CAIRE, HELiOS and SeQual brands, includes portable and stationary oxygen therapy devices, and turnkey on-location PSA Medical Oxygen System solutions. These products support home care, hospice, long-term care, hospitals, military and key industrial applications.
Exergen Corporation
5.1 R05
Exergen Corporation is the recognized world leader in industrial and medical for non-invasive temperature measurement technology. From providing temperature sensors for NASA and various industries to creating the world first temporal artery thermometer—Exergen has successfully changed the way the world takes temperature.
GCX CORPORATION
5.1 V31
By dedicating ourselves specifically to the healthcare industry, we have been able to develop a unique understanding of the interaction between medical devices, users, and healthcare environments. In collaboration with our partners and customers, we create products that are utilized in virtually all healthcare settings, to provide secure positioning, mobility, and ergonomic access to medical devices and computer hardware. Overall, we are committed to developing the tools and solutions to enable caregivers to deliver improved patient care.
Guangzhou Landswick Medical Technologies LTD
5.1 S02
Landswick Medical was foundation from 2007, we are professional manufacturer of superior quality stretcher, vacuum splint/mattress and more. With CE and ISO approval, Landswick products have been exported to European market and got excellent reputation for years. Now we are marching to the global market, appreciate to establish cooperation with you
Guilin HBM Health Protections, Inc.
5.1 S23
Medispo——Professional brand in International Medical ProtectionsMedispo is owned by Guilin HBM Health Protections Inc, popular in more than 50 countries. It's certified by US FDA, CCPIT and is a cooperative brand for UN surgical gloves and face masks. HBM PROTECTIONS received certifications such as ISO13485,ISO9001and ISO14001. A lot of tests are passed in Wuhan Institute of Virology of the CAS, National Leather Quality Center, the famous American ARDL laboratory and others. NOTHING OR BETTER. is the concept of HBM Protections, and it is also the direction of Medispo.
Hemostasis LLC
5.1 Q07
Hemostasis LLC is committed to producing high quality medical devices that are safe and effective for their intended use. One of its outstanding products is ENT hemostat which include NexStat, NexFoam, and NexPak. At Hemostasis, LLC, we partner with leading physicians to develop innovative technologies designed to optimize usability and efficacy, to improve patient outcomes and enhance overall patient care. We strive to continuously innovate and improve.
LiteCure,LLC (Shanghai)
5.1 R26
LiteCure, LLC, as a subsidiary of LiteCure, LLC in China, is engaged in the promotion, sales, installation, application support and related services of LightForce, Companion, and Pegasus laser therapeutic instrument systems. The company is committed to bringing internationally leading laser treatment concepts and technologies into China, and providing the most advanced medical solutions for China's rehabilitation, pain and applied medicine.
DM MODEL MANUFACTURING CO.,LTD
5.1 S22
DM MODEL established in 2011, currently owns more than 400 kinds of products with independent intellectual property rights. Products cover first aid, nursing, clinical, maternal and child, anatomy, traditional Chinese medicine and other series. The products have lifelike appearance, texture and accurate anatomical structure. We are the supplier and partner of all kinds of medical skill competitions and academic conferences
NDI ( Inc, Northern Digital, )
5.1 S07
NDI is a worldwide leader in medical 3D measurement solutions. NDI designs and manufactures advanced tracking systems including optical tracking Polaris series and electromagnetic tracking Aurora and 3D Guidance series. With more than 45,000 systems installed worldwide, the applications cover surgical robotics, neuro, orthopedics, intervention, radiotherapy, endoscope, dental, ENT, and medical simulations. The company has established a strategic partnership with many leading medical device companies and research institutes around the world and has the strong commitment to the innovation and advance of technologies.
Key words: surgical navigation, surgical robotics, computer-assisted surgery, surgical robotics, optical tracking, electromagnetic tracking
Dalian Orientech Co.,Ltd
5.1 S09
Orientech is a leading medical science and technology company and also one of the most organized comprehensive service providers of medical products and medical projects nationwide. Orientech is committed to integrating global medical resources, and by unifying our core business capability we offer the most advanced medical products and most effective solutions. By introducing the latest global remote technology and treatment methods, we constantly improve diagnosis and treatment efficiency and clinical effects thus help a large number of medical institutions to diagnose, treat and manage diseases. In this way, we try to meet the requirements of quality products and services to let more of our people enjoy the benefits.
Orientech is a company full of energy. Following the belief "Science and technology drive future, ideas and concepts build success", we adapt market changes and constantly regulate marketing strategies so as to become a reliable partner to global medical service providers. We are determined to root global advanced medical technology and methods in China and effectively assist Chinese medical reform.
Orientech has devoted itself to developing human health cause, and by improving medical prevention, diagnosis and treatment level, we try to make meaningful contributions to better patients' living and life. With our innovative technology and operation philosophy, Orientech has expanded in breadth and depth to lay a solid foundation of development with unique features. Orientech has fully implemented its belief of "Science and technology drive future, ideas and concepts build success", which makes it follow closely to patients' needs. Orientech will make relentless efforts to become a century's standing enterprise with innovation and quality service, making its staff proud and its partners relied on.
Perma Pure LLC
5.1 Q03
Perma Pure uses exclusive technology to provide reliable moisture control and high customization for medical devices. Our solution is applied in various applications incl. EtCO2 and Patient Monitoring, FeNo, Pulmonary Function testing, and Inhaled Gas Therapy. You can partner with us and together we can help people breathe easier and be healthier.
Prent (Shanghai) Co., Ltd.
5.1 Q09
Reliable custom thermoforming packaging. PRENT is an US based company founded in 1967, our commitment to continuous improvement, design innovation, and process refinement has enabled Prent to become a world leader as a custom supplier of precision plastic thermoforming. 1.Customized. 2.Manufacturing process utilizes Real Time SPC. 3.Rigid sidewall, good sealing with Tyvek. 4.Produced in medical clean room facility. 5. Traceable. 6.ISO 9001:2015 and ISO 13485:2016 certified.
The Ruhof Corporation
5.1 R23
Ruhof is an innovator and leading manufacturer world renowned for offering reliable solutions and individualized service to help you meet and exceed your decontamination and materials management challenges. As the pioneer in instrument and scope care, Ruhof introduced the first enzymatic detergent to the market in 1976. Since then we have dedicated ourselves to research, development and manufacturing state-of-the-art products to ensure the complete cleaning and reprocessing of all surgical instruments and scopes. Addressing the ever-increasing concern of cross contamination in hospitals, Ruhof's research and development department revolutionized the cleaning industry with our new Advanced Proteolitic Action enzymatic detergents, cleaning brushes and foam sprays. This new product line provides the most highly advanced enzymatic solutions that dramatically reduce cross contamination while lowering repair and replacement costs.
As a global leader in our ISO certified facilities, a certification that we meet and exceed worldwide standards of quality assurance in production and customer service, Ruhof brand products also bear the CE mark, which guarantees that our products comply with the European Medical Devices Directive 93-742-EEC.
Shenzhen Flykey Electronics Technology Co., Ltd.
5.1 R19
Flykey Electronics is distributor of Advanced Energy, Excelsys, AstrodyneTDI, Jerome, LCR, RP, FCI, P-DUKE, Sinpro etc..We can provide full power supply solution that meets 60601 medical safety regulations for medical and industrial applications.
Shanghai Sonmol medical devices Co.,Ltd.
5.1 R06
Shanghai Sonmol medical devices Co.Ltd. contributed to manufacturing innovative respiratory medical devices and software for patients with Asthma and COPD as well as other respiratory diseases. Sonmol offers patients a high-efficiency digitalized monitoring and disease management system.
Our featured products like the digital peak flow meter, the spray nasal irrigator, the respiratory muscles trainer(RMT) are serving well on the overseas markets with very impressive reputations.
We make our users the easy-use products and more healthy life.
SunLife Science (Suzhou) Inc
5.1 S08
SunLife is committed to saving more lives and focusing on resuscitation and emergency services,providing innovative technologies and solutions to become the leader of global intelligence resuscitation devices.
The products have been used in 31 provinces and autonomous regions in China, including 1,000 hospitals and more than 40 emergency centers.
SunMed, LLC
5.1 R03
SunMed is a respected medical device manufacturer offering a comprehensive collection of consumable anesthesia and respiratory products. We are an FDA registered, CE & MDSAP approved, and ISO-13485 certified manufacturer and distributor to more than 70 countries. Our product family includes airway management, anesthesia, respiratory, resuscitation/ventilation, diagnostics, oxygen delivery, surgical, and home care products. Our premium brands, Salter Labs, Westmed, Ventlab, and Ethox, have served healthcare and home care facilities around the world for more than 40 years. SunMed also partners with leading medical device companies to design, manufacture, control, and deliver products that will grow their businesses.
SunTech Medical
5.1 S05
SunTech Medical has been focused on the continual advancement of blood pressure monitoring products and technologies for over 30 years. We created a range of OEM modules so that other medical device manufactures could design into their products. Our first finished devices include 24-hour ambulatory blood pressure tests,cardio-stress tests,spot check monitoring, veterinary blood pressure monitoring and blood pressure cuffs. Today we offer customed solutions for nearly all the blood pressure need on the market.
TONGYE TECHNOLOGIES DEVELOPMENT CO., LTD
5.1 S01
Tongye Technologies Development Co., Ltd. was founded in 1993, which was the first to develop mini type Automatic Gastric-lavage machine in China. We owned multiple patents and products with leading technology. We have various new products of Automatic Gastric-lavage machine, electric Suction Pump, abortion Suction Unit and osteoporosis therapy.
Woke Medical Co.,Ltd
5.1 N07

Founded in 2007, Woke Medical has been dedicated to health care industry through medical device business, with a professional team of a combined 360 years of industrial experience.

Our head quarter is based in Hangzhou. We have a comprehensive sales network of subsidiaries and partners across China, such as Beijing, Nanjing, Hongkong and etc, and our products are sold in every province. Moreover during years of cooperation with most Chinese tier-one and military hospitals, we have gained prestigious recognition in the industry.