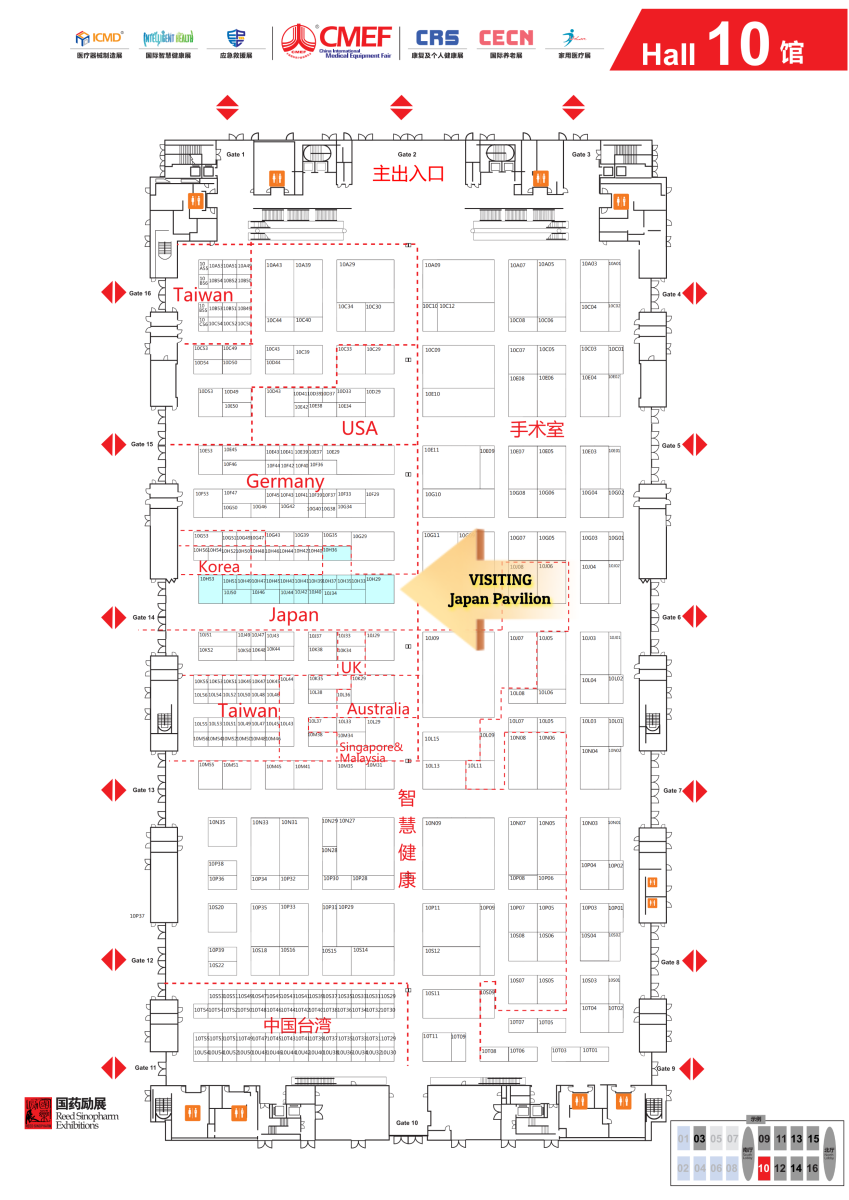 QINGDAO NESCO MEDICALCO.,LTD
10H33

Our company is a Japanese owned manufacturer specializing in the production of surgical suture. The products basically cover all kinds of surgical sutures.The company's quality policy: pursue high quality, pay attention to product safety, and provide products with appropriate price and stable supply.The company's business philosophy: enterprising, creative and honest. Create new value with enterprising spirit. Contribute to the society with an honest attitude.

Charmant Inc.

10H43
A quality driven Japanese manufacture exhibiting in China very first time to offer the most advanced micro surgical instruments to country's institutes and medical professionals as well as to market of USA and continuing its presence in Europe corresponding to the recent MDR (Medical Device Regulation). CHARMANT products have already proven record in clinical use by top surgeons of the specialties globally and will greatly contribute also in China to improve surgical outcomes.
FURUNO ELECTRIC CO.,LTD.
10H37
Since commercializing the world's first fish finder in 1948, FURUNO has supplied many types of products for the marine electronics market. By using its exclusive knowledge of ultrasonic and electronics technologies, FURUNO has developed a wide array of products that have been world firsts and Japan firsts.
We are expanding our business into the healthcare field, especially medical care, and are providing products for the early prevention of disease and monitoring treatment, utilizing the sensing technology which we have cultivated in the maritime field. Our medical products contribute to people staying healthy.
Horizon International Medical Devices (Beijing) Co., Ltd.
10J40
Huizhong International Medical Equipment (Beijing) Co., Ltd. is a comprehensive enterprise integrating R&D, production and sales. The company has a professional sales team, the factory is located in Beijing, with a 10,000-level clean production workshop and advanced production equipment and testing equipment. The company has been committed to the development and application of new biological materials. The company's main "smart glue" product is the only third-generation chitosan biomaterial currently on the market.
Shenzhen MicroApproach Medical Technology Co.,Ltd
10H53
MicroApproach is established in 2015, gathering a batch of professional engineers from both Japan and China.
We started with access product to creat an innovational intervention products platform. MicroApproach is located in Pingshan, with 6000sqm manufacturing base including 2000sqm clean workshop. We already set up whole access production lines for Neuro, Peripheral, Cardiology, Urology.
Kono Seisakusho Co., Ltd.
10H45
Kono Seisakusho promotes the concept of "medical engineering cooperation".
We develop products that meet the needs of the medical field by taking advantage of research achievements in the engineering field. Additionally, we listen to surgeons' ideas about new product needs and their reactions to existing products.
It is Kono Seisakusho's mission to develop medical devices that address even the smallest demands in the furtherance of improving patients' lives.
Koshin Hengxin (Beijing)Technology Co.,Ltd
10J42
Koshin Hengxin(Beijing) Technology Co., Ltd., established in 2008 in Beijing, Japan imported medical products sales agents, such as vacuum suction, negative pressure drainage bags. Operating products: medical equipment, operating room supplies, ward care products, imported home sleep ventilator. We are looking for partners all over the country.
JOINT CHINESE LIMITED
10H29
our company is a professional OEM & ODM manufacturer and exporter integrating the R&D, production, distribution and service of healthy, aesthetic and medical equipment for all kinds of applications. With the rapid development under strict standards of ISO9001, ISO13485, and ISO140001 and BSCI as well as FDA, CE, FCC, BQB certified,.
MANI MEDICAL BEIJING CO.,LTD
10H35
Under our corporate philosophy--Contributing to the world's well-being through development, production, and distribution of products beneficial to patients and doctors--we perform R&D, manufacture, and sales of medical devices, dividing our business into three segments: (1) Surgical Products (products related to the surgical and ophthalmic fields) (2) Eyeless Products (Suture Needles:Eyeless・Eyed) and (3) Dental Products.
NICHIBAN Co., LTD.
10J34

Nichiban Co., Ltd. established in 1918 and operated more than 100 years as manufacturer of medical plaster, based in Tokyo, Japan. Nichiban sets the brand name as "Sticking to your needs" for contributing to a comfortable and healthy life in the future through utilizing the Nichiban Group's strength in adhesive technology.

In this year's CMEF we are pleased to introduce a variety of medical products with superior quality, particularly our hemostatic bandages for stop bleeding which is famous in Japan (STEPTY for vein, STEPTY-P for artery) and dressing film as CATHEREEPLUS, CATHEREEPLUS PAD and CATHEREEPLUS ROLL.

NIKKISO CO., LTD.
10H34

NIKKISO CO., LTD. was founded on December 26, 1953, headquartered in Tokyo, with a total of 8500 employees.
The group is involved in four pillar industries including medical business, aerospace business, industrial business, and deep UV LED section. Among them, NIKKISO's hemodialysis machine has No.1 market share in Japan. With the help of "original technologies", NIKKISO CO., LTD. provides users with original, technical, and high-quality products and services.In our exhibition area, we will display an "Antibacterial air purifier Annuoqing" developed by medical device manufacturer NIKKISO CO., LTD. This device uses the deep ultraviolet LED (DUV-LED) developed by NIKKISO CO., LTD and Professor Hiroshi Amano, Nobel Laureate in Physics, independently, which inactivates bacteria and viruses through the action of deep ultraviolet LED and photocatalyst.

Nitto Kohki (SHANGHAI)CO.,LTD.
10J44
Since our establishment, we have been committed to energy and labor-saving technology, striving to develop unique products to meet the needs of our times. We have always believed in manufacturing people-oriented products.
NSK SHANGHAI CO.,LTD
10H41
Through the continuous effort for 90 years, NSK has established a good reputation in the fields of dental, medical and industry. We are committed to providing the world's first and best products for customers in three fields. To create "brilliant progress" via innovative "grinding technology", NSK aims to continually take on new challenges.
YAMAZEN (SHENZHEN) TRADING CO.,LTD
10J46
Shanshan (Shenzhen) Trading Co., Ltd. is a subsidiary invested by Shanshan in China. It was established in 2001 and has 19 offices in China. Agent sales of machine tools imported from Japan, including machining centers, lathes, precision measuring instruments, machine tool peripheral tools, and provide automatic production line solutions. The main customers are auto parts, precision parts, molds, optics, 3C product parts processing, OA equipment, 5g communication, etc.